SpicyResumes.com Launches New Website Offering Distinctive, Creative Resume Templates That Get Noticed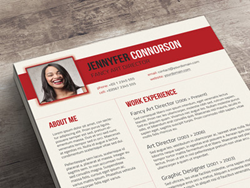 New York (PRWEB) January 05, 2015
America's current job market has never been more competitive. According to the Bureau of Labor Statistics, three workers apply for every new job opening in America—pretty tough odds, especially for applicants who are already struggling to find work. SpicyResumes.com is helping job seekers improve their chances by launching a bold new line of eye-catching resume templates that stand out among a sea of cookie-cutter applications fighting to get noticed.
Contrary to old school rules of thumb that dictate a strictly black-and-white palette for resumes, the value of having a visibility edge could be high—like graphic SEO.
Hertzel Betito, founder and owner of SpicyResumes.com, says his company's line of professional resume and CV templates provide instant visual recognition and improved employer response rates. As visually attractive as each template is, there is a science to determining the right balance and composition when it comes to creating a graphic resume that makes a positive impression.
"All of our templates have a secret ingredient that makes all the difference," Betito says. "Our creative staff has determined the right mix of colors, fonts and other creative elements that work together to reinforce a positive impression and maximize the potential for review."
As an added bonus, Spicy Resumes templates provide job seekers with an opportunity to present a subtle creative dimension and still maintain a high standard of professionalism.
Anyone who feels they are sending out endless numbers of resumes with no results may have all the qualifications to land every job they apply for. However, their resumes are probably just getting lost in the pile of look-alikes accumulating from other applicants. Employers are usually inundated with CVs each time a position opens up; visibility is going to count when it comes to capturing attention during the initial scanning process.
A distinctive resume is also memorable, which helps the screener or employer remember key elements of its content after the first scan.
"If you fail to capture their attention in the screening process, then your CV probably will not survive the first cut," Betito says.
Spicy Resumes templates can be easily edited and modified to suit the job seeker's personal preference with Adobe Photoshop CS4 or above. The Spicy Resumes package includes information and tips to make editing and printing each template fast and easy.
Cover letter and business card templates are an added bonus with some template packages, allowing jobseekers to coordinate their resume design with all elements of a professional job-hunting system. Spicy Resumes offers a menu of eye-catching concepts that are not only creative, but are also capable of demonstrating a strong and functional use of typography.
The goal is to ditch the dull and uninspiring standard CV that disappears in the mountain of black-and-white applications, and reinvent one's image in order to stand out. At first glance, jobseekers with a spicy resume effectively exhibit initiative and a singular determination to stand out from the crowd, gain new employment opportunities and boost career potential. Spicy Resumes templates are priced at $ 7 to $ 8 each and available for immediate download.
For more information, visit the SpicyResumes.com website.
###