Law office of Eric G. Canter Web Design & SEO
Our Search Engine Marketing specialists took over  SEO & website design  for Fort Lauderdale Personal Injury Attorney Mr. Canter 6 months ago & today his firm is #1 on Google.
He was with a much bigger law firm seo company in Fort Lauderdale but was not happy with the service he was receiving and wanted a local social media optimization company to deal with. We redesigned his logo, blog and website and put numerous high search traffic keywords into #1 positions on Google for him. As a token of his appreciation, he referred to his friend and colleague Robert Murphy that also became a client. See our SEO portfolio to see exactly where Eric's Ft. Lauderdale Car Accident Lawyers firm stands against the competition.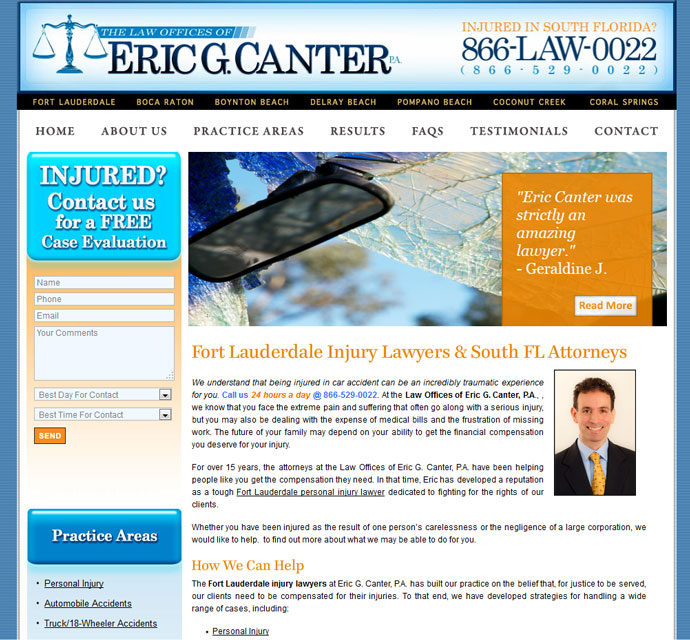 In addition to helping Mr Canter with the branding of his law firm and websites, we are also consulting on his upcoming video production and future video marketing.  We are working with a local production company he recommended to write the scripts and produce the shoots for his television and YouTube video promotions. Furthermore, we built Eric this alternative website in order to have some niche links pointing back at his website. This is a common and effective SEO technique to raise search engine rankings. You can see the website by clicking here: Fort Lauderdale Injury Lawyers
If you are interested in hiring a great Search Engine Optimization firm that specializes in dealing with Attorneys, we are the right company for you.  We have experience dealing with laywers in many different types of practices and guarantee our results!