New Custom Business Cards from Sunrise Hitek Are a Phenomenal Start to the New Year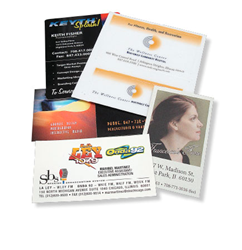 Chicago, IL (PRWEB) January 27, 2015
New business cards are a great way to start the new year with a fresh new you. In the business world, the business card is the ultimate introduction, one that can make or break a new business relationship. Sunrise Digital is pleased to announce their full service business card printing with limitless options. These cards are fully customizable, from the size to the paper stock, to the ink and coating finishes.
Sunrise prints their cards https://sunrisehitek.com/product/business-cards on HP Indigo presses which provide the best-in-the-business high resolution required for a standout business card. in addition to the standard uncoated, full or glossy paper stocks, Sunrise also offers a variety of unique substrates such as vinyl, tear-resistant paper, pearlescent stocks and metallic silver stocks. Another option is to print business cards directly to magnet, giving the card a dual purpose. On top of the stocks, there are also various ink finish options. On colored stocks opaque white ink can be added, as well as overall UV coating to add durability and shine to the card or a spot coating that highlights a certain feature on the card such as a logo or name.
Customization is the key to a showstopping card. Why stop at a rectangular card? Sunrise can make the card square, add round corners, or cut to any custom shape imaginable. Using their digital CNC-router cutter https://sunrisehitek.com/product/business-cards the options are limitless. Being a G7 Qualified Master Printer, they adhere to the strictest quality standards for unmatched color accuracy and consistency. Large format graphics are printed with UV resistant ink, therefore the colors will not fade. Sunrise Digital offer a superb product with turnaround times as fast as 48-hrs or even less to make any event deadline.
About Sunrise Hitek

Sunrise Hitek https://sunrisehitek.com/ is an Inc. 5000 company established in 1988 and employs the most advanced equipment and technology, such as G7-certified HP Indigo and UV flatbed presses, laser engraving, and digital die-cutting, to create best-in-class color printing, short-run packaging, P.O.P. retail displays, and signage products. A privately-owned enterprise, the company is based in Chicago and sells products worldwide.