Award-Winning Digital Team Launches Innovative Site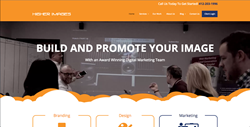 Pittsburgh, PA (PRWEB) March 01, 2015
Digital marketing leader Higher Images, Inc. took its own image to higher levels today with the launching of its innovative website http://www.higherimages.com.
Over the past 15-years, the company's award-winning digital team has been turning heads with websites it's built for clients across the world. Specializing in designing and promoting responsive online images, the company's integrated branding, design and marketing projects combine with its proprietary technologies to help clients bolster revenue.
Higher Images is among Pittsburgh's longest standing and most successful digital marketing firms. The company's expertise spans across branding, design and marketing. It spent a decade developing its Digital HI suite of technologies that are successfully in use across the United States, Japan, Australia, Great Britain, and the Caribbean. It is a Google Partner and one of a handful of companies to build out its own comprehensive technology platform that stays on the cutting-edge of the digital world.
The new image reflects a growing global client base with a scrolling theme of digital intelligence. "With the increasing demand for digital projects, and the design of our own trailblazing technologies, we've been busy growing. The new website captures the unity of our team and the spirit of our work," President and CEO Bryan Thornberg said.
"We place a high premium on personal service and client relationships at reasonable costs. When you retain our team, you acquire an entire group of digital, marketing, PR, and content experts who work as partners, with improving each client's image and profitability as mutual goals," Production Manager and Developer Tim Cope said.
The new website features detailed sections for client portfolios, awards, branding, design, public relations, marketing, SEO, Google Business Tours, PHP Development, PPC, and video production. It also showcases Higher Images' exclusive and successful products, including Digital HI Technology, Visitor ID, Reputation Builder Plus, and Search Magnet Local.
Earlier this month, the company hired several new business development specialists and a PR Director. It also expanded public relations services with its new HI Impact PR programs that merge technology with traditional, internet, and social media into one platform.
The company leverages top notch content with proprietary technologies, online data, analytics, social media, accountability, content writing, and research to offer clients a full digital spectrum.
Higher Images is an established Google partner with corporate offices in Bridgeville, PA. It is among the oldest and most successful digital multimedia marketing companies in the country.
Contact Ruth Hawk at ruth(at)higherimages(dot)com for additional information.
-30-
CONTACT:

Ruth Hawk

Public Relations Director

Higher Images, Inc.

412-203-1996 or 412-721-3755

ruth(at)higherimages(dot)com
More Seo Press Releases