Social Media Optimization Company
Promote your business on hundreds of Social
Networks with our Social Media Marketing Services
Social Media Marketing is the most powerful communication tool of today and necessary to promote any business, product, or service. Articles, blogs and videos are the key to driving traffic to your website and increasing your rankings on Google, Yahoo and Bing. We create the content professionally and distribute it to the top social networks, you get more sales!


Our Social Media Optimization service starts at $500 per month
Click to see our NEW SEO BLOG for tips on Social Media Optimization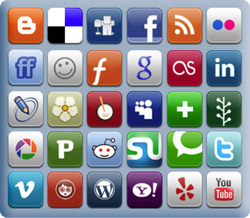 Social Media Marketing Services

Modern Internet marketing is all about Social Media Optimization. Our SEO experts take your website to the best social platforms & social networks so that you can have ample exposure on Google and search engine follow ups. With one-way and mutual link building, your website will have much better visibility in the search engine indexing. Our SMO services drive Internet traffic, improves your brand value and makes a lasting impression!


Account Creation on over 250+ Web 2.0 Networks
We create your own account on the most popular video sites, social networks, blogs, article directories, social bookmarking, RSS feeds, RSS aggregators, and pings. Sites such as: YouTube, Vimeo, DailyMotion, Megavideo, Facebook, Twitter, Blogger, Google, Flickr, Wordpress, Ning, Digg, etc...
Full Sign up: We confirm Emails, 3-5 keywords, website SEO link, Blog Link, RSS Feed

Article Submissions
We submit your SEO Optimized Article with 3-5 keywords to hundreds of article directories. Your existing articles are spun into hundreds of unique articles to avoid spamming the search engines with duplicate content.
Each approved article gives you between 1-5 incoming links to your website.

Article Writing
We research and write a custom 350 word SEO Optimized Article with 3-5 keywords about your product, service or promotion.

Video Submissions
We submit and upload your Video with 3-5 keywords to over 20 of the top video sites and social networks.
We optimize keywords, titles, descriptions and tags for the highest approval and play rates.

Slideshow Video Creation
You supply us with your logo and 2-3 pictures and we create a slideshow about your business.
We recommend this service if you do not have videos. Video Marketing increases your online reach.
Also, you should consider Video Blogging on a regular basis for maximum exposure.

YouTube Campaigns
We can send up to 25,000+ Friend requests for your company video every month. You will get thousands of new friends, views and subcribers each month. In addition, we optimize keywords, titles, descriptions and tags on your YouTube channgel for the highest approval and play rates. Your channel is customized with company links, logos, and background.
Press Release
We send your release to over 30,000 journalists, news sites, PR agencies, and blogs.
Press Release Writing
We research and write a custom 350 word SEO Optimized Press Release with 3-5 keywords about your product, service or promotion.

Auto Update Function
Auto Update the status of 30 Major networks with keywords, links and photos.
A custom email address will be provided and will update all 30 networks with one email. Unlimited use.

* Please Note: Client is responsible for copyright of any content submitted to SEMpros.
Social Network Marketing
Ask about our Social Network account setup, maintenance and reputation monitoring service to find out how you can save hundreds of hours of your time...
 
Facebook, Twitter, Google +
Blogger, Wordpress
YouTube and many more...
Social Media Marketing
We target all the important Social Media Outlets and Web 2.0 sites including all of the following:
Blogs & Article Directories
RSS Feeds/Aggregators & Pings
Social Bookmarks

Video Marketing
Link Building Services

One way text links, directory submissions, Article submissions, Contextual links, One-way links from blog comments, Submission to social bookmarking sites and Forum postings.